The non-profit recently provided over 50 Easter baskets to families who had to focus limitied finances on mere survival
Michigan (PRUnderground) April 27th, 2020
Driving Successful Lives is Changing Lives. Driving Successful Lives, a Michigan based nonprofit organization provided Easter prayers and cheer at a distance to those less fortunate in the community. Donating over 50 Easter baskets to families adversely affected by COVID-19. many people have been laid off or temporarily unemployed until the pandemic moves its way through and driving successful lives took the opportunity to respond to some of the children in these families. Donations from Pontiac Foodland and Gordon Food service were much appreciated as we gathered items to fill the baskets.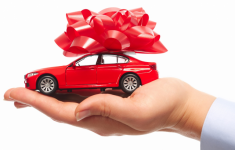 Remembering what the Easter holiday is about and taking notice of the times that we are living in, we also felt that bringing a smile to a child's face was necessary as they watch the family unit temporarily changed. Making a difference in the communities we operate in is what we strive to do as a nonprofit organization.
The next project and initiative of the charity is to help some of the children who are unable to go back to school by providing learning tools and weekend meal packs. Bearing some of the burden off of the families who find themselves homeschooling children, entertaining and feeding children more often as they remain home and in quarantine, Driving Successful Lives will be lending helping hands through our volunteer programs.
About Driving Successful Lives
Driving Successful Lives' mission is to facilitate car donations so that veterans, homeless families, children, those with addictions & other non-profits can benefit from fellow citizens giving-forward.
Every time a person gives to the charity of their choice it may also create a tax benefit for them. The money, the items, and the real property that they have donated to non-profit institutions throughout the tax year may be tax deductible which means that they could end up being the difference between a good tax return and a great tax return. Depending upon the kind of donation and the type of charity or foundation that they chose to donate to, the tax deduction it creates could be very helpful for reducing the amount taxes that they owe. Many successful and wealthy people state that at least to a certain degree, a part of whom they are and what they have become comes at least in part from the practice of giving. Contributing to charities can be a very convenient way to reduce taxes.